CONCLUSION
Historical evidence points to the wild horses of the Mountain Home Range as being descended from southern California Spanish horses. These horses probably escaped from Ute Indians who made frequent horse stealing raids on Spanish missions and ranches, or were hunting, gathering pine nuts, or after Paiute Indians, for slave trade, while in the Needle Range area. They may have also escaped from traders herding the horses along the Old Spanish Trail enroute to Santa Fe or trading posts in and around northern Utah.
The Spanish horses, which established themselves in the Needle Range evidently had an influence of the ancient Iberian horse in their genetic make up as is shown by the prominence of the primitive dun factor coloration, their ability to survive in a very harsh environment, and their willingness to inhabit such a rocky, mountainous area as the Mountain Home Range.
After the white man settled southwestern Utah, ranchers turned out larger domestic horses with the smaller, wild mustangs to try to increase the size of the mustangs through cross breeding. This, to a large extent, was successful for those horses that inhabited the valleys. The wild horses of the Mountain Home Range, due to their behavior, apparently did not mix with the domestic horses in the valleys and stayed isolated in the mountain areas. Mustangers were unable to capture the Spanish type mustangs of the mountains due to the rough, rocky terrain, and the heavy stands of pinion-juniper.
Eventually, the large herds of wild horses in the valleys and lower foot hills were caught out or killed off, leaving the wild horses of the Mountain Home Range. This small population of horses, the last remnant group of southern California Spanish horses, came under the jurisdiction of the Bureau of Land Management's Warm Springs and Beaver River Resource Areas in 1977.
This, I feel, is the most logical explanation of how this unique population of horses was established, and where they came from. The question still remains of how pure Spanish the horses really are. Hopefully, an eventual blood-typing evaluation of the horses will take place. This may help to answer that question. There probably are some mixed blood horses in the population, but I believe the majority are pure, or at least as pure as can be found in these times and on this continent.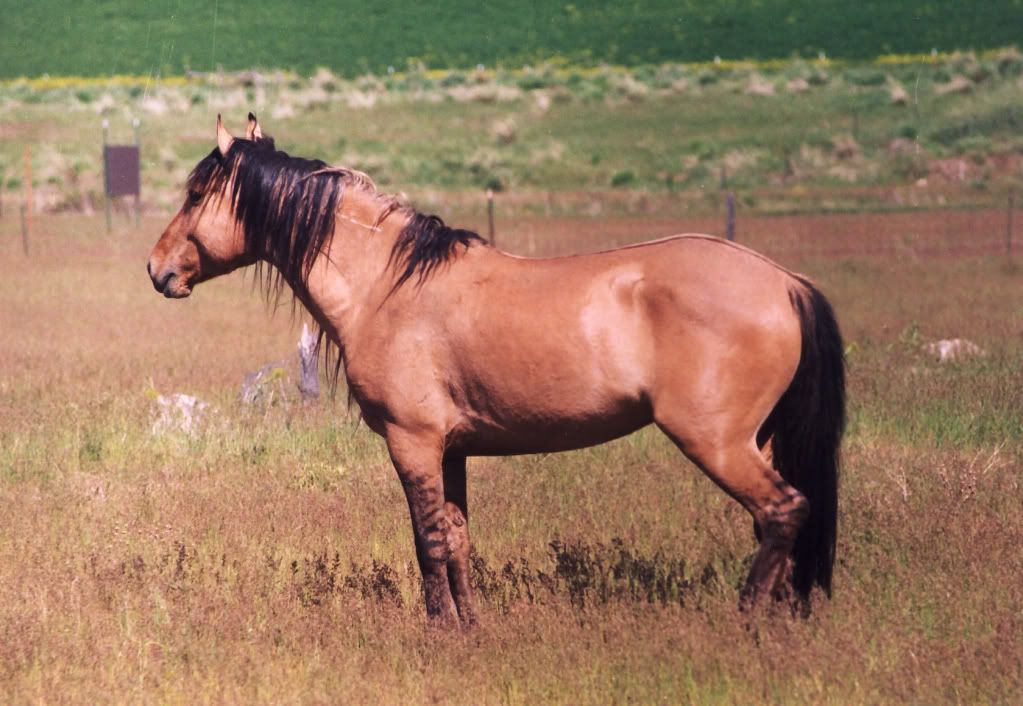 Sulphur's Chance
Dr. Phil Sponenberg's recommendation to the BLM was to manage the Sulphur herd to enhance the Spanish type. He suggested that a population level be set so no outside horse introductions would be needed, any horses that are removed from the population should be the least typically Spanish especially those horses with the broad chest, and color variation besides dun factor should be maintained. One statement of importance that he made was: "Since the Spanish Feral horses are the only feral horses of truly unique and irreplaceable genotypes, they should be managed a genetic resource in addition to other BLM requirements.'
With this type of management, the wild horses of the Mountain Home Range, which is probably the only living historical representatives of the southern California Spanish horse of colonial times, will be strengthened genetically, and the population will be protected from contamination or extinction.
Last August, Dr. Sponenberg gave a lecture on Spanish mustangs at Bighorn Canyon National Recreation Area's Horseshoe Bend. He was discussing management of the Pryor Mountain horses for Spanish characteristics and made a statement that, I feel, also applies to the Sulphur Herd Management Area horses. He said, "Say that my philosophy somehow is wrong, which of course it's not, but say that it was. Well, if you do it my way (manage the wild horse herd) you don't lose anything. You still end up with horses that have eye appeal. If I happen to be right, then you've lost something that's irreplaceable."
Photo and mare(Sulphur's Anica) owned by Deb Baumann of California
I hope this paper at least instills an awareness of the wild horses of the Mountain Home Range. To ignore them or to not appreciate them for what they are is a shame. If there ever was a wild horse herd that truly epitomized the spirit of this nation's heritage of the old west, this one does.
The Utah connection and the Spanish Mustang Registry.
It was about eight years ago when I first started investigating what the Bureau of Land Management calls the Sulphur horses, and at that time I didn't realize the connection of Utah mustangs to the Spanish Mustang Registry. I eventually read about Monty, sire to the two SMR foundation stallions Buckshot (SMR 1) and Ute (SMR 2), who was captured in Emery County, Utah by Bob Holbrook during the late 1920's. Later I interviewed Kent Gregersen, a former member of the SMR.
Kent showed me a copy of one of the first SMR Studbooks, and he pointed out a large number of horses that came from Utah. Kent was an old time mustanger and it was during that interview that he revealed his secret place where he used to capture Spanish type Utah mustangs. What was so interesting was both Bill Stabler and Emmett Brislawn later told me that Kent never would tell where he caught his mustangs. A friend of mine, who knew Kent and used to run mustangs with him, also said Kent had a place he would never show to his friends. Kent told me his secret place was the Mountain Home Range, which is now the north end of the BLM's Sulphur Herd Management Area. He pointed out horses in the studbook that he caught from the Mountain Home Range, including Doby (SMR 406), a dun stallion he traded to Bob Brislawn for four mares.
I interviewed other people besides Kent, did a lot of library research, spent time with Dr. Phil Sponenberg looking at Sulphur horses for his evaluation, and talked to Dr. Gus Cothran over the telephone about blood typing the horses. With the information I collected, I wrote a paper about the Sulphur horses for the BLM and SMR, which was included in the SMR's 1996 Annual. At that time Dr. Cothran had not completed his study of the Sulphur horses, but has since completed it. In a 1997 letter to me, Dr. Cothran wrote, "What I can tell you is that the Sulphur horses have the highest similarity to Spanish type horses of any wild horse population in the US that I have tested. There is more to learn. But they definitely have Spanish ancestry and possibly are primarily derived from Spanish horses."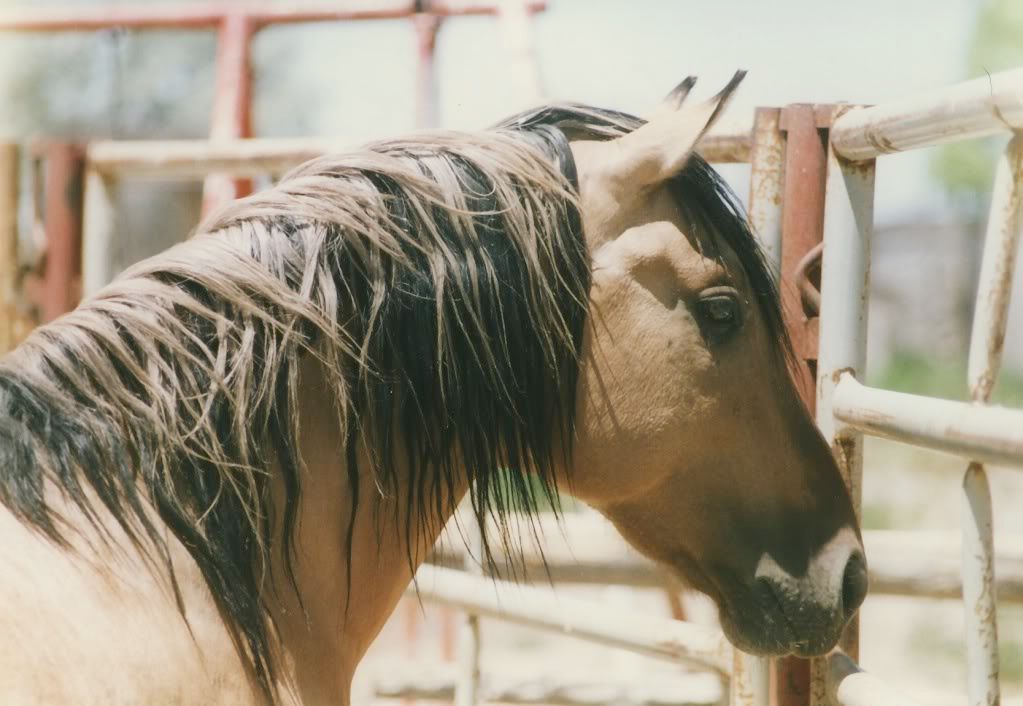 Sulphur's Cortez
A few years ago I began wondering just how much influence Utah mustangs had on the SMR. So, I took my copy of the SMR Studbook and started compiling the original horses inducted into the SMR from wild and private herds, which was from the beginning of the registry to 1995. The following is a list of horse numbers and states or country (including specific herds) in which they were found: Montana (Cheyenne) - 1; South Dakota - 1; Oregon -1; Colorado -1; Washington (Yakima) -1; Canada - 1; California - 2; Wyoming -3; Nebraska (Ilo Belsky) - 4; Idaho and Shoshoni - 5; Nevada and Paiute - 5; Mexico - 5; New Mexico – 8; Oklahoma and Texas (Choctaw) - 9; Arizona, Cerbat, and Wilbur Cruz - 21; Feral Mustang (unknown origin) - 22; North Carolina (Banker) - 25; and Utah and Sulphur - 68. I then sent this information to Emmett Brislawn and had it confirmed by him. No doubt it is off by some but clearly the majority of horses came from Utah. All it takes is a little browsing through the SMR Studbook to see what influence horses like Monty, Doby, and a number other Utah mustangs have had on the SMR.
When I first wrote my paper "Wild Horses of Utah's Mountain Home Range" I only touched on Utah's history and how Spanish horses may have come to this region. By thoroughly looking at the documented evidence and analyzing Utah's history it is very understandable how the horses came to Utah and why descendants are still here. Whether it was searching for gold, Indian slaves, or opening trade routes, Spanish explorations into Utah were many. Francisco de Ibarro was probably the first to come to Utah in 1565. Fray Estevan de Peria came in 1604, Vincent de Salvidar in 1618, Fray Geronimo Zarate Salmeron in 1621 and 1624, Alonzo de Leon in 1669, Juan de Urbarri in 1705, Fray Juan de Rivera in 1761 and 1765, and the Dominguez-Escalante expedition in 1776. Then there was the early Indian horse trade that brought horses into Utah by Shoshoni and Utes. Finally there was the Old Spanish Trail that was said to have reached its heyday during the early 1800's whereby virtually thousands upon thousands of Spanish horses were driven out of southern California into Utah. From Doby's Mountain Home Range to Monty's Book Cliffs, one only has to look at the distribution of wild Spanish horses caught in Utah to see how the horses could have been brought to specific areas by route of the Old Spanish Trail. Today remoteness and seclusion have preserved the largest number of Spanish type horses on only the Mountain Home Range.
Evidence of Spanish occupation in Utah still exists today, from Spanish mines, journals, artifacts, rock inscriptions, to the horses themselves, and so exists the Utah connection to the Spanish Mustang Registry. If in doubt, read "OLD SPANISH TRAIL" by Leroy R. Hafen and Ann W. Hafen along with "LOST TREASURES ON THE OLD SPANISH TRAIL" and "SOME DREAMS DIE", by George A. Thompson, and take a good look at the SMR Studbook, or just ask Emmett Brislawn or Bob Holbrook. If still not convinced, go for a ride with me on the Mountain Home Range.
Sulphur's Takita